New Arrival - 'Coming out of Grizzly Lake'
This painting is of a stream outlet from a Lake located by St Elmo Colorado (Mount Princeton - Collegiate range of mountains). Not only is the lake named Grizzly the hike to it should be named that too. In younger years it would be fair game to 4 wheel drive to it. Now it is only accessible by foot.
It can be purchased at
Arait Gallerys
in Old Colorado City
Welcome to my new responsive website. It is a work in progress and as I create new art I will add them to the appropriate gallery. Ultimately the website will be inclusive of all my works not only 2D but 3D as well.

For now excuse the mess and enjoy!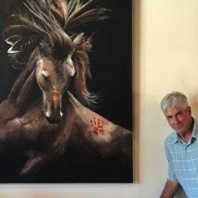 Colorado Springs Native and Lifelong Artist
Dale has had a natural passion for art that came into fruition during his high school years when he studied oil painting.
After high school he earned his Bachelor of Science degree in Electrical Engineering with a minor in Art History at the University of Colorado, Colorado Springs. He recently retired from Keysight (formerly Hewlett Packard) where he worked as an Electronics Engineer 45 years, all the while pursuing his art career.
Dale has a broad range of skills and creates his paintings using a variety of medium including oils, acrylics, watercolor, pastels and airbrush. He continues to experiment with brush strokes, light techniques and is able to draw the viewer into his paintings with a talent for making the light source incredibly striking. He is known for his original landscapes but has recently added some Western style art to his repertoire, including a talent for portraying the noble stature of an Arabian steed.
Some of Dale's work is on display at the
Arati Gallery
in Old Colorado City.
Auto Reply
Thank you for your recent inquiry. I will get back to you
Signature (Supports HTML)
Kind Regards
Dale Pittock